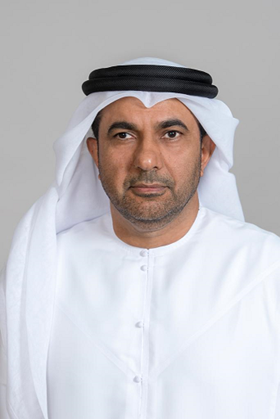 H.E. Matar Saeed Rashed Al Nuaimi
Director General, Abu Dhabi Public Health Centre
From the beginning of time, humans have been striving to protect them selves from dangers and diseases and having faced many threats over the years, we have researched and created the necessary knowledge and means of protecting ourselves, finding our strength in cooperation and coordination with each other.
Historically, the United Arab Emirates has been miles ahead in providing its citizens with top quality health care. The late Sheikh Zayed bin Sultan Al Nahyan (may his soul rest in peace) established the country's health care infrastructure in 1960 with modest yet robust beginnings. Moving forward, the current UAE leadership has learned many lessons and has been striving to provide and maintain the best possible public health care system as one of their top priorities.
These efforts have been based upon the World Health Organization's definition of public health as the art and science of preventing disease, prolonging life, and promoting health through organized community efforts. The Abu Dhabi Government has kept pace with national and global developments in the fields of public health and this approach is evident in the existence of public health concepts within the legislation of various government agencies that ensure the provision of the necessary infrastructure.
Today, community members are looking optimistically and positively at the outputs of the initiatives and programs included in the Abu Dhabi Vision 2030, which aims to provide an educational system, health care and high-level infrastructure. In light of this approach, his Highness Sheikh Khalifa bin Zayed Al Nahyan, President of the United Arab Emirates, issued a law establishing the Abu Dhabi Public Health Centre in 2019.
The Abu Dhabi Public Health Centre aims to achieve the centre's vision of moving "towards a healthy and safe society "by preparing and implementing policies, managing strategies, plans, initiatives and programs for the centre, as well as cooperation with all the associated partners. This also includes contributing to emergency response operations related to epidemics, infectious diseases, disasters and crises, placing all the values that we all cherish in use.
At the Abu Dhabi Public Health Centre, we look forward to promoting a culture of a healthy lifestyle among community members by protecting them from diseases and giving them a promise of a happy and content life by achieving the vision and aspirations of the leadership of the UAE, the government of Abu Dhabi, and its honorable people in all aspects of public health. We will remain committed and aware of the importance of the health and safety of our society for the safety and security of our future generations.
On the behalf of the working team and myself, I offer you our best regards.